Patricia Wright, PhD, MPH
Executive Director
Proof Positive
(she/her)
Humor. Zest. Love of Learning.
Hope. Leadership.
"I have traveled to the ends of the earth to learn from autistic individuals. My hope is that through aligning the science and skills of happiness with autism intervention, wellbeing becomes accessible to all."
Many of Dr. Patricia Wright's greatest stories lie within the pages of her passport (just ask her about Alaska, India or China), but her most exciting pursuit is making the world a more inclusive place for autistic individuals and the communities that support them. Through Proof Positive, her bold vision is being realized.
Guided by her passion (and zest) for education and advocacy, she's dedicated her career to ensuring individuals with autism have access to effective services and supports that lead to more joyful, meaningful lives.
Now she's leading the charge to advance the science of positive psychology and skills of happiness as the Executive Director of Proof Positive, a national non-profit collaborating with schools, autism organizations and positive psychology leaders to integrate and expand wellbeing programming for autistic individuals and their communities.
Applauded as a global leader in autism advocacy, programming and interventions, Patricia brings a track record of success working in management at top autism organizations. She was pivotal in the design and transformation of a statewide system of support for children with autism for the state of Hawaii, and she also served in leadership roles for NEXT for AUTISM and as the National Director of Autism Services for Easterseals.
Additionally, Patricia has held advisory roles for a number of professional associations and advocacy groups, including the Organization for Autism Research's Scientific Council, the Executive Committee for the Friends of the Center for Disease Control and Prevention, Board of Directors for the Association of Professional Behavior Analysts and the Autism Society Panel of Professional Advisors.
Patricia has advised and provided expert testimony at Congressional Hearings. She is also a frequent contributor in the media, raising awareness of early identification and developmental milestones and deepening the public's understanding of disability equity, inclusion and access.
She holds a Ph.D. and Master of Public Health from the University of Hawaii. Her research focuses on the delivery of evidence-based interventions in community-based settings and healthcare access for people with disabilities.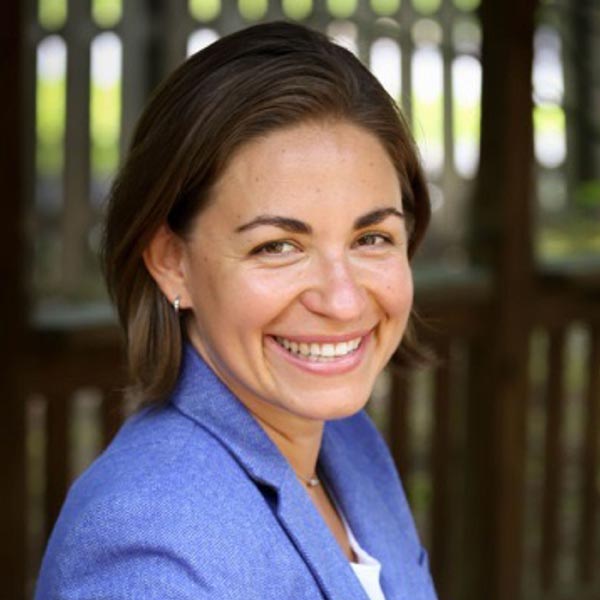 Katie Curran, MAPP
Chief Wellbeing Officer
Proof Positive
Curiosity. Sense of Purpose.
Creativity. Zest. Love.
"I believe passionately in the potential for human flourishing. Positive psychology allows me to cultivate growth through meaningful connections and joy."
Imagine a world where wellbeing wins for everyone, including individuals with autism. Katie Curran believes this is possible, and she loves making it happen. The engine that drives her purpose forward: the science of happiness.
Katie is the Chief Wellbeing Officer of Proof Positive, a non-profit organization dedicated to spreading the science and skills of happiness for individuals with autism, and their families, educators, and service providers.
Katie has more than 20 years of clinical experience working with autistic individuals. She's widely recognized as a creative force when it comes to autism intervention, developing strategies and tools that fuse Positive Psychology with Applied Behavior Analysis to improve wellbeing.
Katie's zest for her work makes her a sought after speaker and workshop leader. In her role as a Primary Instructor on UPenn's Master Resilience Training team, she led interdisciplinary teams around the world to train educators, soldiers, athletes, and government officials on the skills of resilience and human flourishing.
Prior to Proof Positive, Katie held tenure at three of the world's leading behavioral institutions (i.e., Sheppard Pratt Mental Health Institute, Kennedy Krieger Institute, and Princeton Child Development Institute).  Her sense of purpose was ignited when she realized that behavioral interventions, alone, were not enough to develop thriving lives for autistic individuals and their communities.  Early in her career, she recognized an opportunity to prioritize wellbeing as a pathway to improve learning trajectories and quality of life outcomes.
Always curious, she has authored articles on the topics of Goals Setting, Hope Theory, Character Strengths, and Learned Happiness. She serves as a global representative to the International Positive Education Network; held a seat on the MAPP Alumni Board at University of Pennsylvania and was a founding board member for the Global Autism Project.
Katie holds a Masters of Applied Positive Psychology (MAPP) from the University of Pennsylvania and earned her Bachelors of Psychology with honors from Towson University in 2004. With her love for lifelong learning, Katie is currently pursuing a Master of Science in Nonprofit Leadership at the University of Pennsylvania.
Katie lives in Princeton, NJ with her partner, Maria, and their two kids.  She is most grateful for the joy she finds getting lost in nature, playing (just about anything…as long as she is winning) with family and friends, and spoiling her dog, Georgie.
Avery Bell
Associate Director,
Community Integration
Proof Positive
(she/her)
Kindness. Teamwork. Love.
Love of Learning.
Appreciation of Beauty & Excellence
"I'm driven to create an inclusive world where everyone thrives. In order for others to fully flourish, I believe the beauty of the outdoors can bring healing, joy, and happiness."
When Avery Bell is not enjoying fresh air and outdoor adventures, she's bringing her kindness and innovation to help others practice happiness in any environment.
As the Associate Director of Community Integration at Proof Positive, Avery engages diverse teams of educators, caregivers and service providers to integrate positive psychology skills into the daily rhythms of life.  Always learning, Avery supports the organization's social media, messaging, and collaborations to promote inclusion, equity, and sustainability.
Prior to Proof Positive, Avery fueled her passion for people and the planet as a youth development leader at Cheley Colorado Camps in the Rocky Mountains. At her alma mater, Colorado College, she engaged community members in various initiatives to enhance campus sustainability goals in her role as the Green Programs Intern at the Office of Sustainability.
Applying her innate passion for mental health and wellbeing, Avery has also worked to promote research and awareness on mental health and suicide at the James Kirk Bernard Foundation, where she coordinated social media, marketing, and fundraising events.
With a love for service, Avery enjoys volunteering for a variety of organizations, including Conservation Colorado and Ascendigo Autism Services. As a previous Division III student-athlete, Avery loves working as a team to achieve goals, and will apply this sense of teamwork and community involvement to optimize collaborations at Proof Positive.
She earned her Bachelors of Arts in Political Science and Environmental Issues from Colorado College.
Avery currently lives in Boston, Massachusetts but calls Basalt, Colorado home. Always looking for a new adventure Avery loves to hike and ski, learn a new crafting skill (currently, it's printmaking!), and do all things music-related: concerts, playing, singing, and appreciating its beauty!