The founder of Positive Psychology, Martin Seligman, explains that there are several
elements critical to human flourishing: Positive Emotions, Engagement, Relationships,
Meaning, and Accomplishments (PERMA+). We believe in the mind-body connection
and have added +Health to reflect that physical health is a vital element of wellbeing. By
learning the science and skills related to each element, you can take control of your
wellbeing and drive your life toward a flourishing future!
Start exploring the elements of PERMA+ and develop ways
of tracking your wellbeing over time.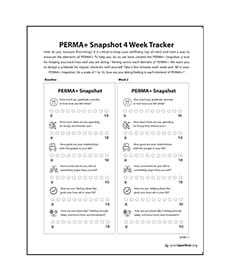 Looking for a bit of guidance on the skills or more information on positive psychology?
Our team at Proof Positive is here to connect with you.
What parents and educators are saying!
"Many times happiness is overlooked and not really thought about with our students. Often there is an agenda to just teach and teach and teach and not really think about the student as a whole. So really taking the time to think about happiness in that student as a whole becomes an important aspect to developing a student that is well rounded."
— Angela, Educator —
"Burnout in this field is a thing. And proof positive helps staff look at what they're grateful for, highlight strengths and have a positive approach to each day."
— Jeremy, Educator —
"Many times we think of the deficit instead of looking at the positive in students and that's where positive psychology comes in. Look at what they can do, not what they can't do. I already see such a difference in what we've incorporated through Proof Positive – people are truly trying to engage with each other."
— Erin, School Nurse —
"Resilience is the superpower that allows us to cope, flex, and love our kids through the hardest moments, all while enabling us to be present and supportive on the happiest days. Positive psychology has helped our entire family-including our son, learn how to nurture this skill, and we are better humans because of it."
— Maria, Parent —
"Proof positive is so important because they bring a science based, fresh perspective on how to do this for both staff and students. If we keep the vision of [wellbeing for all] there's no telling where we can go."
— Peter, Executive Director, EPIC School —
"We used to believe that when our son was successful, he would find happiness. But the harder we worked toward reaching the traditional goalposts of autism treatment, the further away both of those things felt. When we began incorporating positive psychology, everything shifted. His skill acquisition skyrocketed, and even more importantly, so did his self-esteem. We had it backwards--when our son found happiness, success followed."
— Christina, Parent —
"What proof positive is doing to help support the staff is really shedding light on the importance of happiness in what we do. It shows our staff that we can teach our students and give them these tools to be able to live the good life."
— Angela, Educator —
"Learning the skills of happiness made my whole life better."
— Sebastian —
"I'm so excited … happy me journal."
— Dylan —